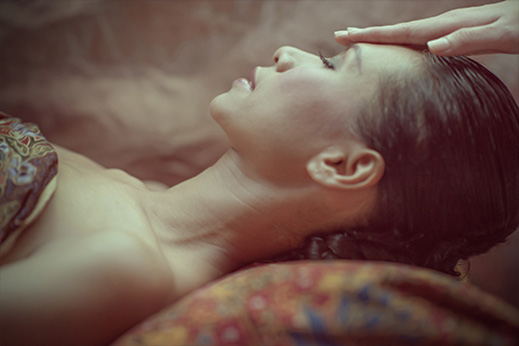 Please note that Reiki is not like a massage or other spa treatment. Reiki is energy work and the therapist uses his hands over the client's body by gently touching to let the energy flow.
Reiki heals by flowing through the affected parts of the energy field and charging them with positive energy. Reiki clears, straightens and heals the energy pathways, thus allowing the life force to flow in a healthy and natural way. Reiki is a Japanese technique for stress reduction and relaxation that also promotes healing. It is administered by "laying on hands" and is based on the idea that an unseen "life force energy" flows through us and is what causes us to be alive. If one's "life force energy" is low, then we are more likely to get sick or feel stress, and if it is high, we are more capable of being happy and healthy.
A treatment feels like a wonderful glowing radiance that flows through and around you. Reiki treats the whole person including body, emotions, mind and spirit creating many beneficial effects that include relaxation and feelings of peace, security and well being.
Reiki is a simple, natural and safe method of spiritual healing and self-improvement that everyone can use. It has been effective in helping virtually every known illness and malady and always creates a beneficial effect. It also works in conjunction with all other medical or therapeutic techniques to relieve side effects and promote recovery.
靈氣療法是完全不同於傳統按摩或水療的治療。靈氣療法是一種自然療法,藉著引導能量技巧,只需利用雙手,把能量傳輸到受者,使受者身體回復平衡,幫助受者舒緩壓力,改善健康狀況。在治療過程中,靈氣會使受者進入放鬆的狀態,藉以提升身體各系統的運作功能,當身體在深度放鬆時,會透過自律神經系統使血壓降低,心跳減緩,釋放緊張與焦慮,同時這種放鬆的狀態也會提高免疫系統的功能,增強抵抗病毒細菌的能力,受者會釋放沈重不當的能量,最後達致平衡與和諧。靈氣按摩是一種"手鋪設"技術,運用的是一種存在于宇宙間所有生命體的宇宙生命能量,當生命能量較低時,您會容易生病或焦躁不安,但當生命能量較高時,您便會更加健康和快樂。
靈氣按摩是一種既安全又具保護力的自然和諧的宇宙能量,也是一種自然而簡單的治療技巧。可以增加身體正能量,促進身體健康,減低患病幾率,加速身體自我療效,達到自我提升。這種治療方法已經治療過很多病人,幫助增強病人的心志和免疫功能,從而與傳統醫療產生相輔相成的效果。