Is the pick up and drop off area the same for all your branches?
The complimentary shuttle service is available for our spa branches in the Old City and at Nimman Soi 15. The shuttle service area is the same for both spa branches at Nimman and the Old City. It is not available for our Massage Shop by the Night Bazaar.
Which area do you offer the pick up / drop off?
We offer a complimentary shuttle service within Chiang Mai city. We pick you up from your hotel or clearly stated complete home address and also drop you to any location within the city after your treatment. Please note that we do not pick up from public places such as shopping malls, town squares or markets because these crowded places make it impossible to locate you.
What information do you need from me to arrange the pick up service from my hotel?
Please give us the name, address and telephone number of your hotel or private residence. In case of hotel: please also give us your room number (this will help us when trying to find us and asking about you at the reception desk). Please make your spa booking under the same name as your hotel booking or at least let us know the name under which you booked your hotel, in case we ask at the reception desk to help with locating you. If you have a Thai telephone number, please provide the number. We do not call international numbers.
Meeting our driver at your hotel:
At the time of confirming your spa reservation, we will inform you of the pick up time and where to meet our driver. In the case of hotels, we ask you to wait for our driver at the lobby or reception area.
My hotel is outside of Chiang Mai. Can you still pick me up?
For hotels outside of the free shuttle area, we can assist you with booking transportation to our spa at your own cost. We also recommend checking with your hotel. Many hotels provide a shuttle service into the city. We may pick you up from the drop off point of your hotel shuttle.
Can you pick me up from the airport?
No, we do not pick up from the airport. In the past there have been too many problems with flight delays, cues at immigration etc. and it is impossible to predict a correct meeting time. Our driver is on a tight schedule and cannot wait for a long period of time. It is more convenient for you to arrange airport pick up by your hotel, and let us pick you up from your hotel after you checked in to avoid any inconvenience.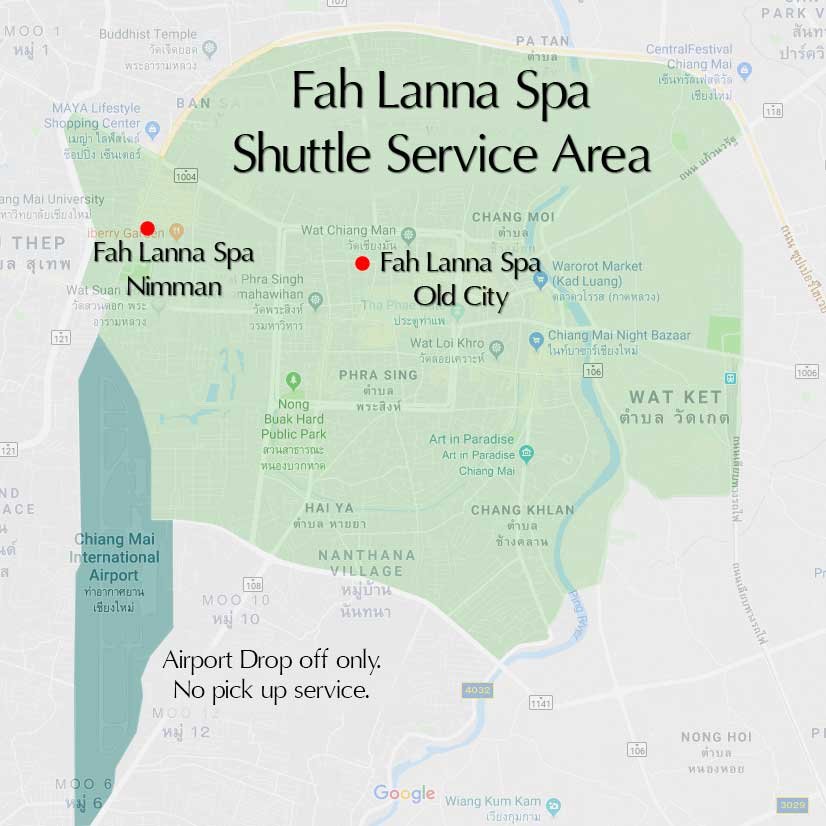 Can you pick me up from a market, temple, tourist attraction, shopping mall etc.?
No. Because there have been many problems with locating the customer at public or busy places, we do not pick up from such locations. The pick up location should be a clearly marked point, such as a hotel, restaurant, café etc. and we need the full name and address. For example: Instead of arranging pick up from "Maya Shopping Mall", you may arrange pick up from U Hotel opposite Maya Mall, as it will be easy to meet you at the lobby and you can stay dry and cool inside the lobby while waiting for the driver.
Can you drop me off at the airport?
We are happy to drop you off at the airport after your massage and can store your luggage in our reception area while you enjoy your treatments. If you have a lot of luggage (i.e. for a bigger group), please do inform us ahead of picking you up from your hotel, so we can plan for the number of people and luggage in the cars.
You should calculate around 15-20 minutes drive from the spa to the airport. During rush hour traffic from around 17 pm to 18.30 pm it may take longer.
Can you drop me off at a restaurant, market, temple, shopping mall etc?
We can drop you off anywhere within the city area. You can inform us after your treatment where you would like to go. There is no need to inform us at the time of booking.
What car are you using to pick us up and how will we recognise the driver?
Our cars are white Avanza vans with 6 seats or a black 12 seater van. The cars have stickers with Fah Lanna Spa on either side of them. Our driver will identify himself by holding a Fah Lanna Spa sign and confirm your name with you.